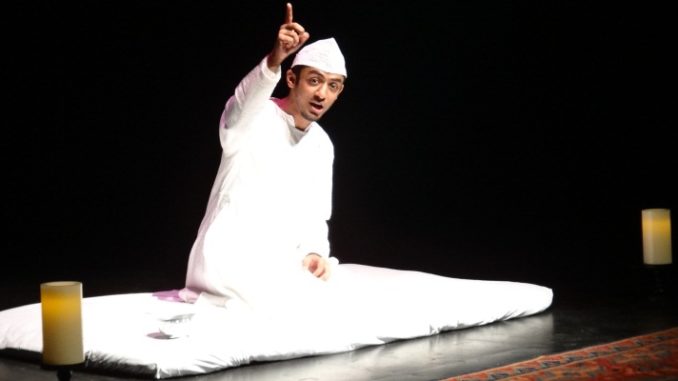 courtesy yourstory.com
ANKIT CHADHA (1987-2018)
"My story is of such marvel that if it were written with a needle on the corner of an eye, it would yet serve as a lesson to those who seek wisdom." The Arabian Nights
"If one wanted to depict the whole thing graphically, every episode, with its climax, would require a three-dimensional, or,rather, no model: every experience is unrepeatable…"Italo Calvino: If On A Winter's Night, A Traveler.
"It is a book so vast that it is not necessary to have read it, for it is a part of our memory".Jorge Luis Borges: Seven Nights.
 *****
"We are deeply saddened by the tragic death of Ankit Chadha, the storyteller who played a critical role in reviving the form of dastangoi. We lost Ankit in a tragic accident on 9 May. He was 30. Ankit was known for his research-based narratives, performing both in India and abroad on a wide range of topics- from Kabir and Majaaz to pastoralism and stories for children. He also authored two books.
Ankit was out for a walk near Kamshet lake, outside Pune, when he and his friend slipped and fell into the water. His friend managed to get to safety and scream for help, bringing local villagers to the spot. Since it was past sunset, it was difficult to locate him in the dark water. When they did manage to retrieve him two hours later, it was too late.
The body was flown to his home in Delhi last night and the funeral took place in Delhi today (11 May) morning. We request that you respect the right of privacy of his family- his parents and his brother- in this time of grief.
Ankit had just returned from a US tour, which included performances at Harvard and Yale Universities. His most recent work was "Prarthanaa", a narrative and prayer exploring M.K. Gandhi's ideas around death. He performed it with musician Vedanth Bharadwaj, and had recently performed at the Birla Gardens in Juhu where Gandhiji conducted a prayer ceremony himself, many years ago. Ankit created the form of the musical dastan, first with a celebration of Amir Khusro's life called Khusro-ke-Rang – with Bindhumalini, Vedanth Bharadwaj and Ajay Tipaniya, and later a dastan on Rahim. Ankit would often burst into song in the middle of his non-music dastans too. He collaborated with a range of artists, learning the craft from Mahmood Farooqi, and working with several dastans, musicians and poets. Another popular dastan, Dastan-e-Awargi, on Majaaz, was performed with Himanshu Bajpai. Ankit was the author of "My Gandhi Story", a book for children in collaboration with Nina Sabnani, and the author of "Amir Khusro- The Man in Riddles". He was the recipient of the Sabarmati fellowship in 2017, bringing to fruition years of study on Gandhi and his ideologies.
While dastangoi is typically performed by two people, Ankit often performed alone. Lean, and with a school-boyish twinkle, he filled up the stage with his personality and presence when he performed. He was a magical conductor, pulling the strings of hearts through the past, present and future. He had a special connect with children, connecting with them through dastangois on animals and Ramayana, but also making them connect in his other works, throwing in moments of inane laughter in the most serious of topics. He knew his audience keenly, young or old, urban or rural, drawing crowds in both the Ivy Leagues and the ghats of Varanasi. He was political, magical and empathetic. He was introspective and daring. And most often, he was all of that and more in every single work of his, making his audience alternate between laughter and tears, and pushing them to question.
A thinking artist is a rare breed. Unfortunately, with Ankit Chadha's passing, we have lost an artist who never stopped questioning, who always knew the right words to say, and who was not afraid to say them. And he always said it with heart. We will miss the twinkle in his eye, the pronounced clearing of the throat, and his voice saying
"Toh Hazreen, hua yun…."
Ankit, you will be missed. Keep telling stories, wherever you are.
—Shruthi Vishwanath a friend and collaborator of Ankit is a Pune-based singer.
The Lost Art of Dastangoi
Ankit Chadha at RajasthanKabirYatra
Dastaan on Pastoralists
Love Story of a Gaurakshak: Retold
*****
This was a response to a performance by Ankit Chadha at The Loft in Pune some two years go.
Dear Khushru
Thank you for having arranged a truly astonishing and revelatory experience with Ankit Chadha the other day at The Loft. If I have taken some time in responding it is only because the experience of listening to Ankit's mesmeric voice and narrative that portrayed man's predicament by encapsulating time past, present and the future through the prism of parables spanning diverse cultural traditions left me simply speechless. I spent the rest of the weekend mulling over what I had heard. First, the power of the oral tradition to sway consciousness, then the unity to be found in diverse cultural traditions that seem to have grasped very early, man's predicament of power through knowledge and greed and willful destruction. The story of Adam, common to the Judeo-Christian tradition and now, as I learnt even to Islam left me astounded at the idea that God had created as it were man's predicament.
By giving Adam the power to name his creations he also created in him the knowledge of desire to become a creator himself. Ankit's wonderful adlibbing on the garlic bread that Adam desires seemed a wonderful metaphor for the power he had acquired through the gift given him to name things to create things—-and thus manipulate nature instead of living in it and by its bounty. So to me the parable of Adam appeared in even more stark form through Ankit's narration, as the fatal downside of power rendered so facile through language. I can name things, things are known by names and names create. I want garlic bread and I can conjure it through manipulation of nature, through the agency of another name—value addition. 
As in any good story telling, Ankit did not preach; I did not think he was throwing us a message to take home; he left us with many to choose from, from the obvious to the subtle. And what better way to close it than the coda of the poem to tread softly on this earth, a message Adam perhaps forgot or disdained once he acquired the power to name God's creations and in His image to forge new "creations"…Big Mac, Depression, wars, climate change 
Thanks again and hope one gets a chance to experience such story telling once again…and again.
Warmest regards,
Ashoak Upadhyay
*****
Dastaan-e-sedition
Dastaan on Indian Partition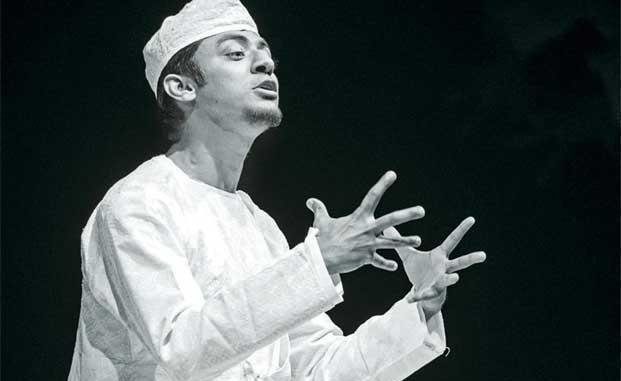 " Toh Hazreen, hua yun…."
Courtesy kractivist.org