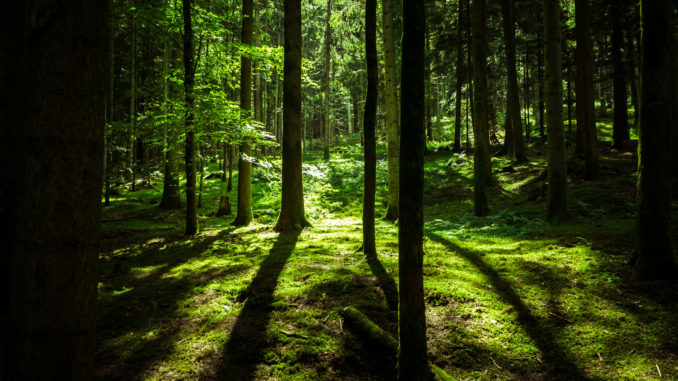 Courtesy: earth911.com
Hermann Hesse
Nothing is holier, nothing is more exemplary than a beautiful, strong tree. When a tree is cut down and reveals its naked death-wound to the sun, one can read its whole history in the luminous, inscribed disk of its trunk: in the rings of its years, its scars, all the struggle, all the suffering, all the sickness, all the happiness and prosperity stand truly written, the narrow years and the luxurious years, the attacks withstood, the storms endured. And every young farm boy knows that the hardest and noblest wood has the narrowest rings, that high on the mountains and in continuing danger the most indestructible, the strongest, the ideal trees grow.
Trees are sanctuaries. Whoever knows how to speak to them, whoever knows how to listen to them, can learn the truth. They do not preach learning and precepts, they preach, undeterred by particulars, the ancient law of life.
Walt Whitman
Roots and Leaves Themselves Alone
Roots and leaves themselves alone are these,
Scents brought to men and women from the wild woods and pond-side,
Breast-sorrel and pinks of love, fingers that wind around tighter
than vines,
Gushes from the throats of birds hid in the foliage of trees as the
sun is risen,
Breezes of land and love set from living shores to you on the living
sea, to you O sailors!
Frost-mellow'd berries and Third-month twigs offer'd fresh to young
persons wandering out in the fields when the winter breaks up,
Love-buds put before you and within you whoever you are,
Buds to be unfolded on the old terms,
If you bring the warmth of the sun to them they will open and bring
form, color, perfume, to you,
If you become the aliment and the wet they will become flowers,
fruits, tall branches and trees.
I Saw in Louisiana a Live-Oak Growing
I saw in Louisiana a live-oak growing,
All alone stood it and the moss hung down from the branches,
Without any companion it grew there uttering joyous of dark green,
And its look, rude, unbending, lusty, made me think of myself,
But I wonder'd how it could utter joyous leaves standing alone there
without its friend near, for I knew I could not,
And I broke off a twig with a certain number of leaves upon it and
twined around it a little moss,
And brought it away, and I have placed it in sight in my room,
It is not needed to remind me as of my own dear friends,
(For I believe lately I think of little else than of them,)
Yet it remains to me a curious token, it makes me think of manly love;
For all that, and though the live-oak glistens there in Louisiana
solitary in a wide in a wide flat space,
Uttering joyous leaves all its life without a friend a lover near,
I know very well I could not.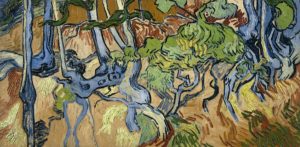 Tree Roots. Vincent Van Gogh. (Courtesy: Wikipedia)
Edna St. Vincent Millay
Blight
Hard seeds of hate I planted
That should by now be grown,—
Rough stalks, and from thick stamens
A poisonous pollen blown,
And odors rank, unbreathable,
From dark corollas thrown!
At dawn from my damp garden
I shook the chilly dew;
The thin boughs locked behind me
That sprang to let me through;
The blossoms slept,—I sought a place
Where nothing lovely grew.
And there, when day was breaking,
I knelt and looked around:
The light was near, the silence
Was palpitant with sound;
I drew my hate from out my breast
And thrust it in the ground.
Oh, ye so fiercely tended,
Ye little seeds of hate!
I bent above your growing
Early and noon and late,
Yet are ye drooped and pitiful,—
I cannot rear ye straight!
The sun seeks out my garden,
No nook is left in shade,
No mist nor mold nor mildew
Endures on any blade,
Sweet rain slants under every bough:
Ye falter, and ye fade.
City Trees
The trees along this city street,
Save for the traffic and the trains,
Would make a sound as thin and sweet
As trees in country lanes.
And people standing in their shade
Out of a shower, undoubtedly
Would hear such music as is made
Upon a country tree.
Oh, little leaves that are so dumb
Against the shrieking city air,
I watch you when the wind has come,—
I know what sound is there.
Kabir
Patta Bole VrikshSey
Patta bola Vrikshsey:                    A leaf says to a tree:
'SunoVrikshvanaraeh.                  'Listen O tree of the forest,
abka pat jadahnamiley,               when your leaves wither away
dur pad de jaaye.'                         you will be done in and forgotten.'
Vriksh bola Pattasey:                    The tree says to the leaf:
'SunoPattemeribhai,                     'heed my words, dear brother o' mine,
yeh hi jagatkireethai                     It is forever the way of this world –
Ikaayeikjaaye.'                               one comes while another goes.
SaassaasmeyNaam ley,                In every breath remember the Divine Name, 
bachesaasnakoyeh,                       lest any breath escape wasted,
kyaajaanephirsaaska,                   who knows whether
Aawan hoi nahoye!                        another breath will arrive or not!  
Aisabaaniboliye
                             Always say such words,
   
man kapaakhoye                           that will sanctify your heart,
apna tan sheetalkare
                    tranquil your entire being
auronkosukhdey                            and emanate peace and joy to others.
 Dukh me sumiran sab kare          Everyone dwells on grief and unhappiness,
Sukh me karena koi.                      But none meditates on joy and blessedness.
Jo sukh me sumirankare
               Those who meditate on beatitude,
Dukhkaaheko howay!                    For them goes away any pain or grief!'
Translated from Hindi to English by Uma Subbaranam and Sadiq M. Alam ~

Acid Rain woods. (Courtesy: Wikipedia)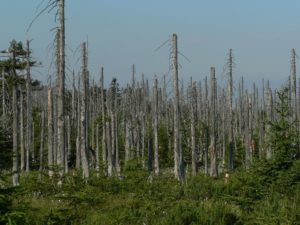 Notes.
 --Hermann Hesse: excerpts from Trees are sanctuaries 
   courtesy: http://www.awakin.org/read/view.php?tid=2170
 --Walt Whitmaan: Excerpts from Leaves of Grass.   
   http://www.gutenberg.org/files/1322/1322-h/1322-h.htm
 --Edna St. Vincent Millaay: Excerpts from "Renascence and Other Poems.
   http://www.gutenberg.org/files/109/109-h/109-h.htm
 --Kabir. Translated from Hindi to English by Uma Subbaranam and Sadiq M. Alam ~Courtesy: 
   http://www.techofheart.co/2013/02/patta-bola-vriksh-sey-lyrics-translation-sant-kabirs-hindi-bhajan.htm