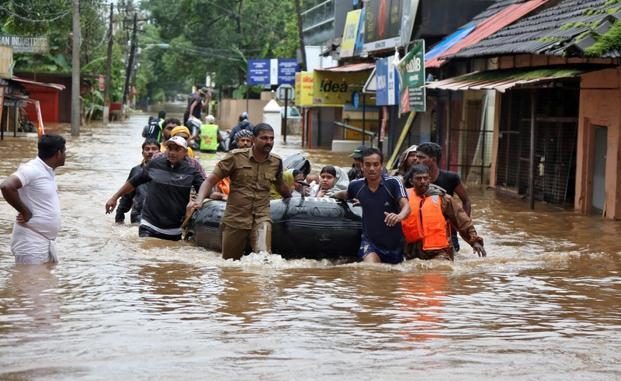 Pic Courtesy: Reuters
…to this!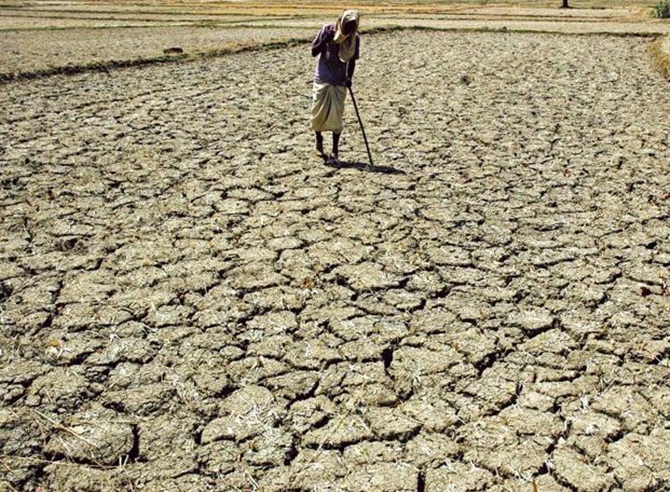 Pic Courtesy: Reuters
…and to this!
G Sajan
R
amlal gives me an occasional ride in his cycle rickshaw from Delhi metro station. He hails from Bihar. A dearth of jobs in agriculture forced him to move to Delhi more than 15 years ago. Like 30 per cent of the capital's population, he lives in a slum, struggles for a living in the big city far away from home, a distressed migrant. All Indian cities survive on the hard labour put in by the unseen and unorganized migrants like him.
A defunct rural economy and an overgrown urban landscape; this is the model of development pursued by us over the last so many decades. This is the outcome of a neo-liberal economic paradigm that invokes and valorizes individual choices based on market forces. In the 1980s the then British Prime Minister Margaret Thatcher adopted the slogan 'There is No Alternative' or 'TINA' for short to close arguments over the merits of privatization/capitalism. She was echoing the nineteenth century conservative philosopher Herbert Spencer who coined the phrase as a debate-stopper against the critics of laissez faire and of the notion of "survival of the fittest."  This phrase soon became the catchword for the end-of-century celebration of victorious global capitalism. Yes. The Soviet experiments had failed. Socialist dreams faded. Francis Fukuyama found in the twin process of market victory and communist collapse the end of history. TINA!
And all those who were dreaming about an egalitarian society that seemed to dissolve into fantasy were riddled with the question of what practical and viable alternatives to an increasingly inequitable system could be found.
Given the post-millenium scenario there is an urgent need to break the shackles of cynicism and of the TINA syndrome to create new contours for a better future.
Help is at hand.
"Alternative Futures" by Ashish Kothari and K.J. Joy offers fascinating insights especially because this effort has involved a long search which they have initiated through a series of alternative confluences or Vikalp Sangamam in which the most fertile minds of our times sat through a series of three day sessions to identify and discuss various possibilities for creating a new world. It has imbibed the spirit of various social experiments such as Chipko, Lokayan, Kalpavriksha and KSSP. This book  is a continuation of the previous book titled 'Churning the earth: The making of global India' written by Ashish Kothari and Aseem Shrivastava and published in 2012 .
So, what is this alternative future that we are dreaming about? As Shiv Viswanathan subtly puts it in his prophetic prelude, this is all about a politics of anxiety, of responsibility where the encompassing words are ecology and justice. He is happy about this search which is essentially Indian since 'it was Ananda Coomaraswamy and not Daniel Bell who coined the word 'the post-industrial society.' Though  Gandhi  was famously against the notion of a western mode of development, he was not a luddite.  His ashram was extremely futuristic in terms of the social experiments envisaged and practised there; so too Tagore who was dreaming about a futuristic university where the whole world would come to nest.
As famously attributed to Mark Twain, we can predict anything but the future. And 'future is a foreign country where people do things differently.' Any search on the future possibilities will entail a synergy of the alternative technologies and alternative system of governance and an altogether different lifestyle.
Critiquing the system is easy, the authors find. The main task is to form viable strategies that can make  a difference. These alternatives have to be pitted against displacement and dispossession, they must support people's movements, and their key elements should be justice and sustainability; they have to be viable and practical and also  not anthropocentric.
Ashish calls this new paradigm radical ecological democracy.(RED).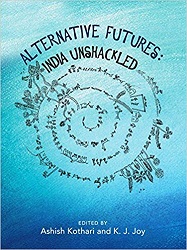 This book is a collection of brave thoughts. As the editors have admitted in their preface while some of them are cautious, others are adventurously imaginative. But together all the 32 thematic essays encompass all major spheres of human existence–political, socio-cultural, economic or ecological.
Of all this the most important challenge is with democracy which has been captured by the elite.
In an incisive analysis with inputs from grass roots activism  Aruna Roy, Nikhil Dey and Praavita Kashyap of Mazdoor Kisan Shakti Sangathan  propose the idea of direct democracy through a rainbow coalition of social movements in the grassroots level. They argue for a cross-fertilisation of ideas that can help find space in the midst of global power and finance capital. A democracy through participation, decentralisation and self-rule can create more space for dissent and strengthen internal democracy especially in the entrenched hierarchies of caste in Indian society. They point out how non electoral democratic spaces such as Narmada Bachao Andolan, Chipko Movement have mobilised the most marginalised sections in the country.
Can we dare to dream? D.M.P.Parameswaran asks and answers by conceiving of small self-governing communities as foundational structures for governance. Citing the coveted decentralisation experience  of The People's Plan in Kerala, he says that a village panchayath of 25000 people in an area of 25-30 sq. km can engage in self-governance. Such a community would be aware of all the natural resources like soil, water and sunlight in their geographical area. They could effectively link it up with the human resources available in the community thus bringing down the ecological footprint.
This is a community based on the concept of a solidarity economy which is self-sufficient in terms of calories, proteins, vitamins, minerals and fat. This is a self-reliant and increasingly self-sufficient Rurban Republic. Here humanity constitutes a horizontal grid of networks. The local self government here is the most powerful element in the governance pyramid rather than Parliament.
There are also evolving models like Raleggan Siddhi, Hivarae Bazar and Mendha Lekha  from other parts of the country. These are models which strengthen the local economy and work on the principle of subsidiarity. It is a model which works on the Gandhian paradigm that distinguishes between need and greed in consumption, rejects conspicuous consumption and products from the corporate industry, Parameswaran argues that it will be a happy community. And his measure of happiness has elements such as longevity, morbidity, work and alienation, equality, diversity, tolerance and sustainability.
The authors and editors are  strongly influenced by 'Limits to growth' propounded by the Club of Rome and Small is Beautiful by E.F.Schumacher. And it is here that they come out with studied responses to existing technological options in the field of water and energy.
When we argue that small is beautiful one major question that confronts us concerns  large dams. In the article on the future of water in India, Shripad Dharmadhikary and Himanshu Thakkar quote Maharashtra Chief Minister where he says that despite having 40%of large dams in the country, 82% of the agriculture in the state is rainfed. Clearly there has to be a policy change in favour of a decentralised  ecosystem and watershed based approach to water conservation which is holistic and community oriented  with emphasis on rain water harvesting..
Water planning from the very beginning has been anthropocentric. Even in the first five year plan document policymakers argued that out of the total annual flow of water in our rivers which is equivalent to 1356 million acre feet, only 76 million acre feet or 5.6 percent is being used for the purpose of irrigation and the rest flowing to the sea is wasted.
Seven decades later, the mind set is the same. Whatever we do not consume is waste. And even within this anthropocentric approach, the reference to utility is only for the rich and the powerful.
Using comparative analysis, The International Water Management Institute shows that per billion cubic meter(BCM) of water, large dams served 17150 ha, ground water storage served 237910 ha and decentralised water harvesting structures served 2,532,000 ha. So, for the same volume of water,  ground water storage served fourteen times more land than the land served by large dams and decentralised harvesting systems served 148 times more land. Aggregate value of crops and water productivity are also higher in the alternative models.
The alternative strategy is to conserve and utilize water at the  place where it falls. Rain water harvesting with people's participation will be a key element in this strategy.
There are many such successful experiments like Ralegan Siddhi, Pani Panchayaths of Maharashtra, SPK, SOPPECOM. Other major well-known models include the river rejuvenation project by Tarun Bharat Sangh in Rajasthan and Arvary river parliament in Alwar.
The debate in the energy sector in India has a very long history which commences from the Silent Valley debate in the early 1980s. The primary question as represented in the widely acclaimed Environmental Kuznets Curve (EKC) hypothesis which propounds a 'trade off between environment and development' implying that developing nations and economies in transition will have to forego environmental quality to achieve higher levels of socio economic development. Here the assumption is that there is no alternative to the carbon exhaustive developmental trajectory.
In a  very illuminating article Harish Hande, Vivek Shastry and Rachita Misra suggest that India's rural livelihood mission can be clubbed with decentralised renewable energy production. Energy will be an area which can create rural jobs through energy entrepreneurship in a collaborative economy for developing  low carbon villages. Technology is also emerging through the concept of Decentralised Renewable Energy.(DRE).
Energy consumption and generation is directly linked to climate change. The ecological footprint of the richest 1% of Indians is 17 times more than that of the poorest 40% and  the electricity sector contributes to about 47%of all the CO2 emissions. Providing electricity and modern energy to an additional 240 million people living in distant villages and also sustainable cooking fuel for 840 million people is a huge challenge.
The authors argue that growth cannot be in an infinite exponential curve. This issue hinges on the correlation between Human Development Index (HDI) and per capita electricity consumption. Countries like Ecuador and Peru have achieved 0.7 HDI with relatively smaller per capita electricity consumption. On the other hand energy guzzling South Africa has an HDI of only 0.597. And within such countries there are questions about who consumes more and who are denied basic amenities.
In the agriculture sector the debate is more contentious. It is fiercely against modern, chemical intensive, mechanised farming arguing against the basic premises of green revolution. It consumes ten times as many calories to produce one calorie of food. The authors  argue that a technological fatigue has set in the farming sector which has compelled 40 percent of the population to leave farming leading to distress urban migration, shifting people out of their primary occupation. They suggest bio diverse ecological farming which is more sustainable.
The canvas of the book is large; from pastoralism to the shaping of the future world order.  Alternative Futures also deals with socio cultural aspects of language, art, media, knowledge, health, sexuality, dalits and caste, gender, adivasis and minorities. The topics and list of eminent authors are so wide that it is not possible to mention all of them within the scope of this review.
But the debates about options for the future, one that evolve around and in, a TINA-less world are quite relevant against the backdrop of the huge technological disruption unfolding globally, a disruptive wave leading to large scale job losses.
With his cycle rickshaw Ramlal may continue to work, live and probably die in this big city. He may, God forbid, die an early death, since studies show that the longevity among migrant labour is much lower than the national average.
But will his children get a better life? Will they be able to live and work  in a less polluted and healthier  place? Enjoy greener, happier futures?
This collection of thoughts may provide some answers.
Notes.
"Alternative Futures" edited by Ashish Kothari an K.J.Joy Authors Upfront Delhi. 2017.

G.Sajan is a media professional with dccades-long experience in development communication. He is currently Deputy Director (Programmes) Doordarshan in New Delhi working in diverse geographical locales like Port Blair, Shillong, Bangalore and Thiruvananthapuram. Earlier he had produced path breaking experiments like Green Kerala Express, the first Social Reality Show in Indian Television meant to select the best Gram Panchayath in Kerala. The show received the National Urban water award for Media in 2011. This was followed by the second season of Social Reality Show titled Ini Njangal Parayam (Now we speak)  involving lakhs of self-help groups of the nationally renowned poverty alleviation programme Kudumbashree.

He has been associated with Kerala Sasthra Sahithya Parishath KSSP the internationally acclaimed science popularisation movement in Kerala which he has imbued the values of an alternative search on development and progress. He has also a few publications to his credit and a state award for creative translation.